Prefab Swimming Pool-Liner Pools
Any size, Any shape, Anywhere
More than 25years of experience, Arrdev international is into the manufacturing of swimming. Arrdev pools is famous for quality of work & product. We are installing prefab pool with Wall Panels & Brackets, Swimming Pool Membrane (liner), etc. We built swimming Pools at every place like in Schools/Clubs, Hotels, Commercial Swimming Pools, Society Swimming Pools, Farmhouse, Residents, etc. The making of these pool is very easy with 3 simple steps: designing, building wall with panel, pasting liner (membrane), fix accessories and fill the water.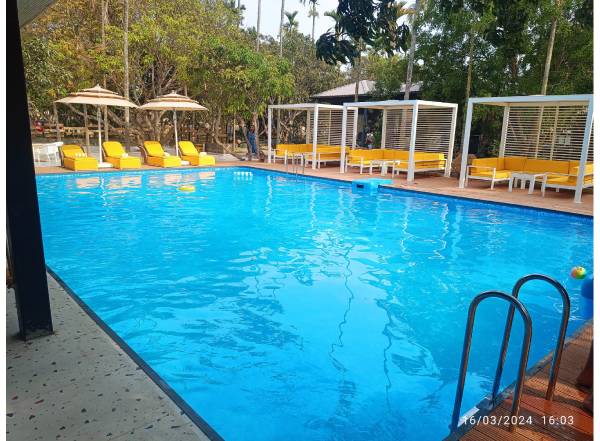 Prefabricated swimming pool: the civil construction has its own complications, and you need a lot of manpower and consultants. Technology means simplifying the process & operations. Arrdevpools focussed to make pools simple & easy. That has come with 25 year of continuous R&D to make swimming pools better every year. Prefabricated pools as name suggested that it fabricated in factory & assembled at sites. Prefabricated pool can be built in any shape & size. These can be in ground or above ground, indoor & outdoor.
---
Stage of Pool Designing:
3D Design of swimming pool.
Manufacturing the wall panels and finishes as per design.
Transportation of swimming pool in modular for along with filter and fittings to site.
Site preparation on site.
After the above work the swimming pool installation process starts which have 8 stages.
Once all assembling, fixing is done we fix lights ladder and other required accessories in pool, finally fill water and testing is done by our technical team after that swimming pool handover to client.
Roof top pools can be made on existing RCC roof if roof structure is made up of to bear waterweight. Or we can give strength to roof by prefabricated steel platform or RCC. rest procedure is same as explain above.
---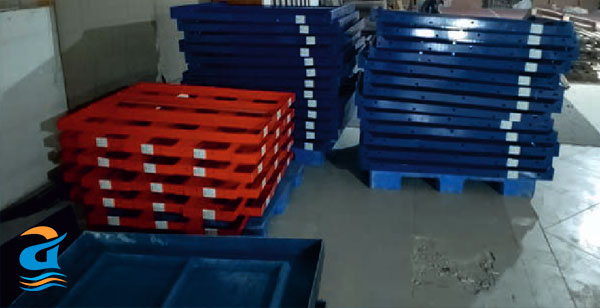 Swimming Pool Wall Panel & Brackets
A mass of solidarity.
The wall panels, not only standing itself but giving strength to the structure vertical ribs are incorporated at the back of each wall panel
---
Pool Membrane / Pool Liner
Pool LINER specifically made for swimming pool and water bodies. All across the world 60% pools are made in liners.
Liner comes in many designs, colours and pattern.
The ideal arrangement
Arrdev pools liner are utilized as premium fortified pool layers in open pools, resort pool, indoor pools and restrictive private pools.
They are utilized as a covering material for both fixed indoor and outside pool. The 4 layer is developed of just the best material, guaranteeing tear confirmation sturdiness that will give long periods of pleasure and durable execution. The liner is impervious to enduring and cold temperatures. Likewise, the material has an enemy of microbial completion, which makes it impervious to parasites and microscopic organisms.
Arrdev pool layers are tried as per the unbending rules of the pond conform to all concoction and physical necessities
Our pool layers are appropriate for both new developments just as the remodel of existing swimming pools. Regardless of whether pool is built with Granite, metal, plastic or wood, our pool layers can be introduced on any strong surface. This is laid on a defensive, isolating down layer, which is then welded together by hot air welding so as to make a consistent, an airtight waterproof surface.
Liner Specification: 1.5 mm thick (+3%), Width: 1.5m, 1.8m
Tensile: 350 lbs(warp), 250 lbs (fill) Tear Strength: warp 85 fill-8lps
Temp Resistance: Low (-) 22°F, H (+)1580F, UV-Resistance, Anti mildew Cadmium free.
Liner Design Options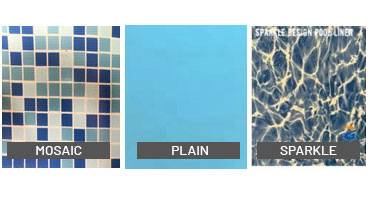 Prefabricatd Swimming Pool (Designer Swimming Pools)
Swimming is a splendid thought, particularly if it's finished during a hot day-or essentially an upsetting day. In any case, setting off to an open pool may turn into an issue since everyone has a similar thought. We practically 100% sure the spot will be packed when you arrive.
Be that may, a private swimming, indoor or open air, isn't just a corresponding component of a house, it's additionally an important resource.
With Prefab technology of Arrdevpools, building any design of pool is possible.
---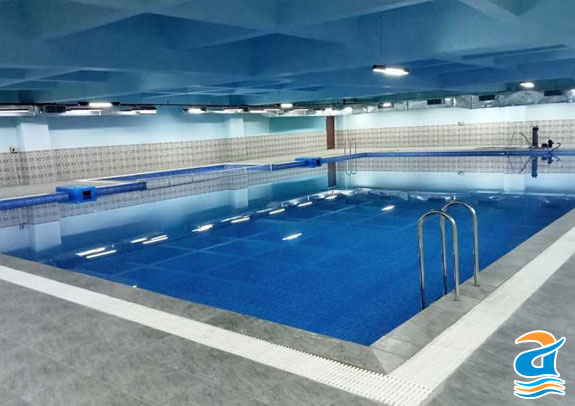 School/Compitition Swimming Pool
School swimming pool are mostly in rectangular shape. It must have open space all-around the swimming pool. it should have proper railing, starting blocks & floating lane for practice & competitions. Diving pools are different kind of pool which is deeper than the normal swimming pools.
Swimming pools for school & academy have different set of requirements.
The size of pools is fixed. Kids/Toddlers pool should not be more than 2ft deep.
Semi Olympic pool 25mx12.5m1.35m
Olympic size swimming pool: 50mx25m x 1.35m
Training pools can be as follows: -10mx5mx1.2m, 15mx10mx1.2m
---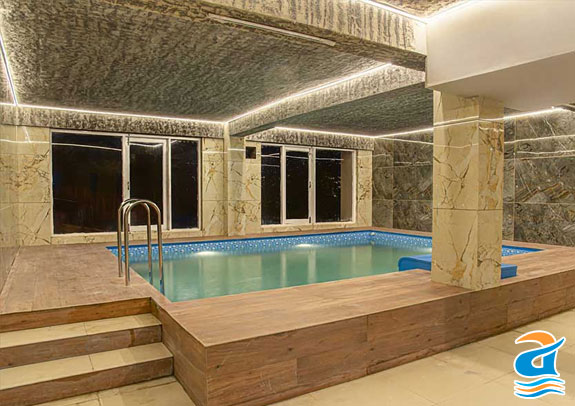 Hotel Swimming Pools
Swimming pool in hotel or resort enhance the value of property and giving an extra facility to their guests,
Arrdev pools had made swimming pools in hotels like Hayat, Holiday inn, Ramada, Radisson and many more.
Hotels swimming pools are mostly on the roof top or in basement where construction is not so easy. But Arrdev pools invented an easy way to build a pool at anywhere. the weight of panel is negligible in compare of RCC structure. In-ground, semi ground or above ground pool can be made with prefabricated technology. Any designs, size is possible in pre fab pools. Waterfall & fountains can be added in these pools.
We are able to give overflow in prefabricated pools also
These pools are the perfect choice to meet the standards of hotel. We can make over flow channel around or any wall of swimming pool. The balancing tank can also be made in prefab structure, Filtration system can be conventional sand or pipeless filter with cartage filters/bag.
---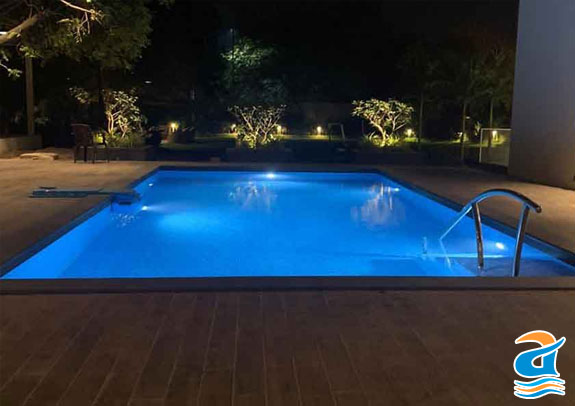 Club Swimming Pools
Club pools are mostly in societies, colonies are made by builders or RWA.to avoid lengthy civil process builders giving us swimming pool projects because it's easy and fast in making process . we are using pipe less filter that cut the running cost of a pool. our satisfied clints are ISRO,Ganpati builder, Indian army ,Winlass Builder , BUILDCON etc.
---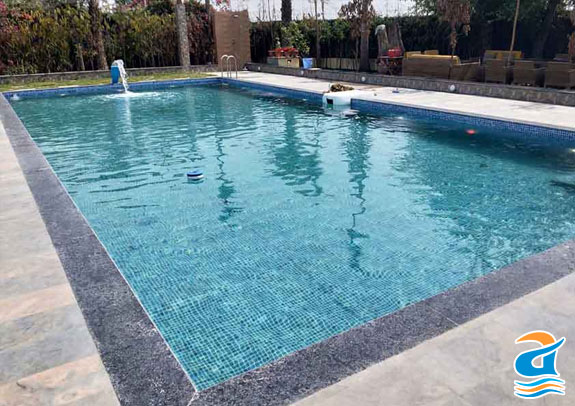 Home / Farm House Swimming Pools
"Every home deserves a pool" is a slogan given by Arrdev international.
Every dream home have a swimming pool and we fulfil this dream in very easy and innovative way. Swimming can be a regular work out so if it's in your home nothing be better than this. Our company is making hundreds of pre fab pools in a year in houses across INDIA and other countries. You can have it in back yard, on terrace or inside a room also. Process of making prefab pool is same as explain before. With design and colour pattern we can enhance the beauty of your personal pool.
For farmhouse /villa/home stay in remote or any other area these pools are easy to use and maintain. Where the usage is not regular and maintenance staff is also not available. The prefabricated pools are the best in terms of costing and maintenance. In Most of the farm houses area permanent structure is not allowed here prefab is the best solution.
---
Designer Prehab Pannels and Prehab Swimming Pools with Liner and Pipeless Filters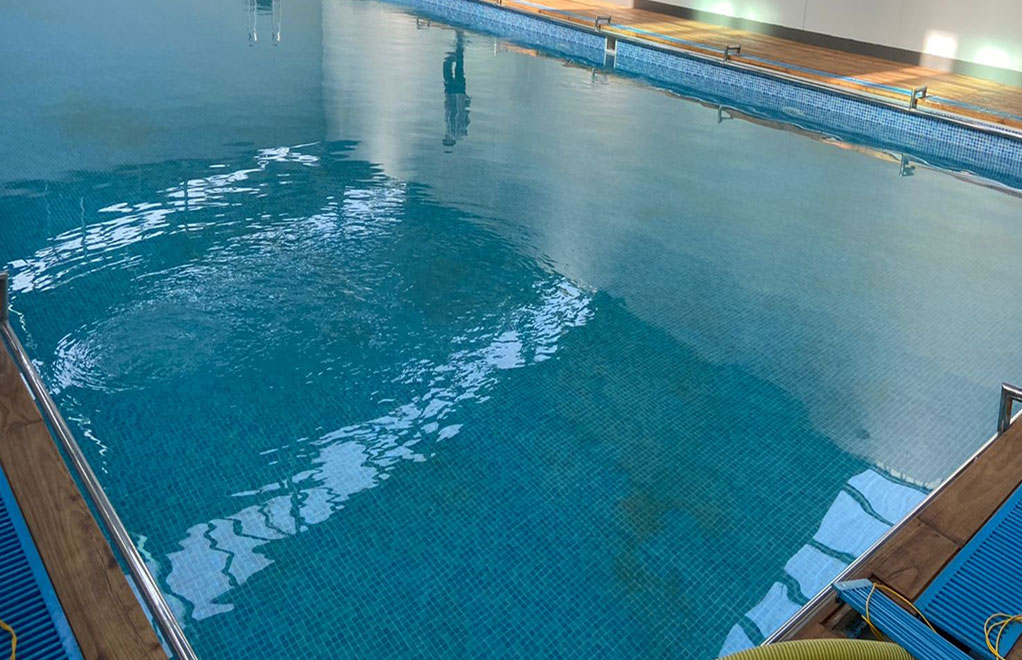 Overflow Type School Pool, Srinagar J&K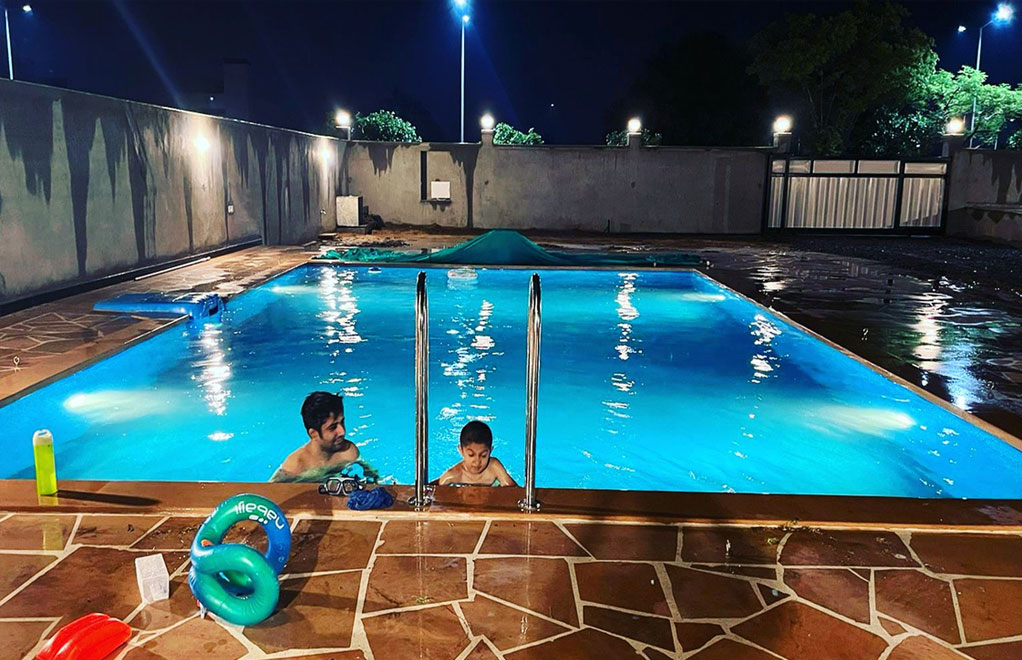 Hotel Pool 20x40x4.5 Feet, Jodhpur
---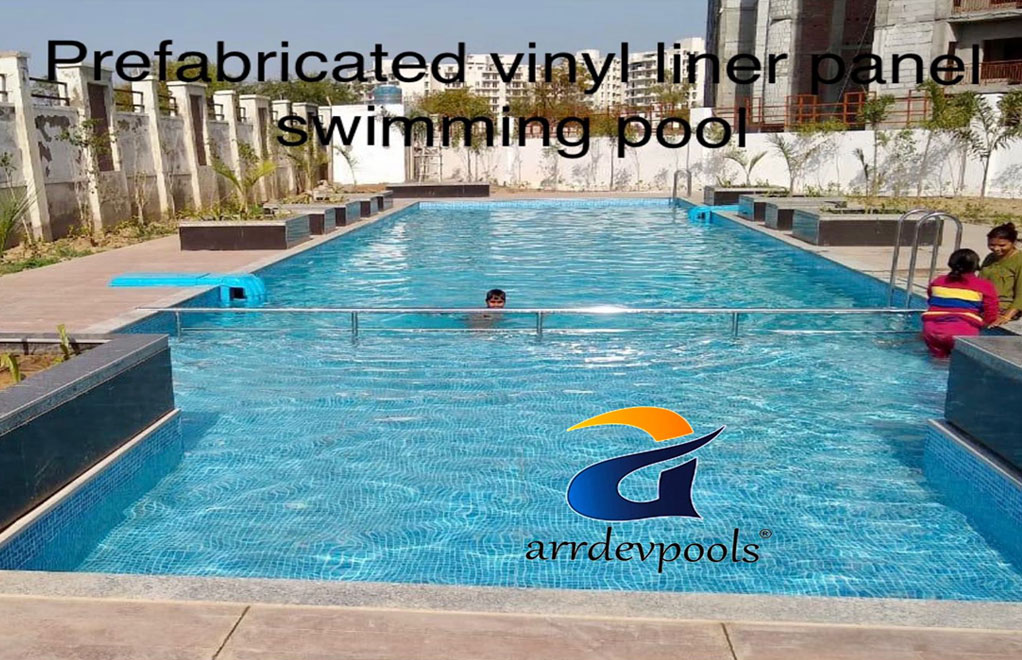 Society Pool Agra Ganpati Group 25x65x4.5 Feet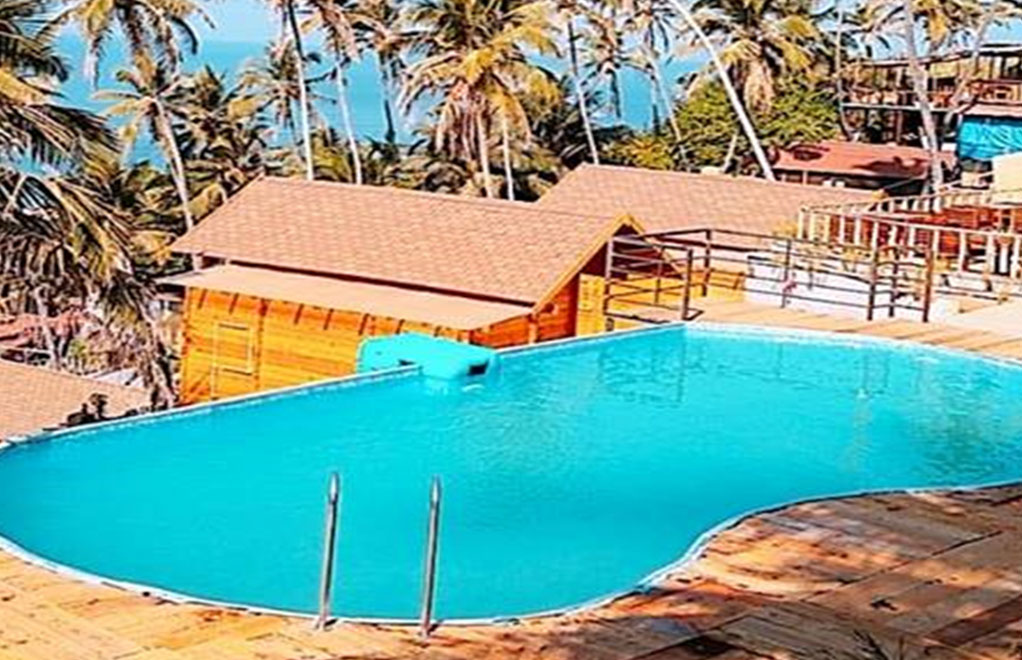 Hotel Swimming Pool Bean Shaped 35x20x4.5 Feer Goa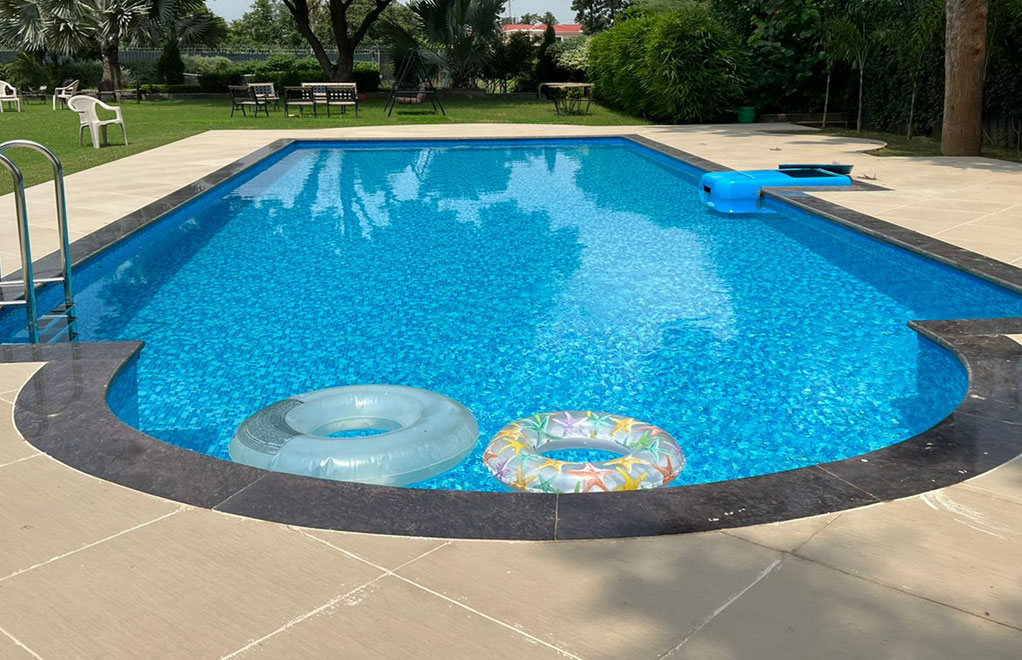 Roman Shaped Pool at Farm House 45x20x4.5 Feet Delhi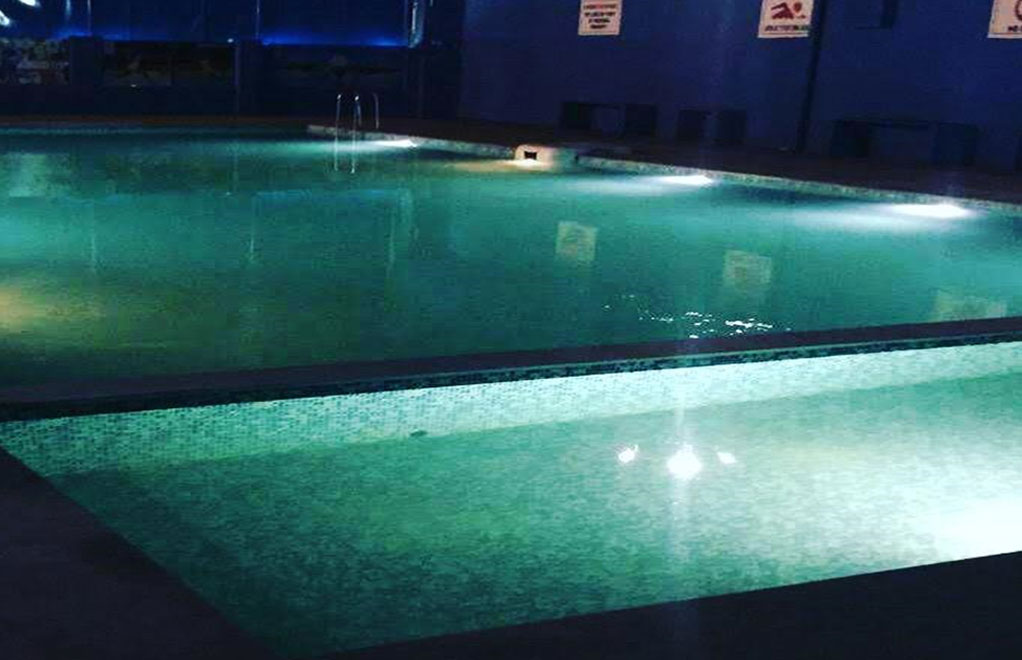 Commercial Academy Pool 60x3.x4.5 Feet Chennai